At LakeCross Veterinary Hospital, our advanced technology, in-house lab, and on-site pharmacy allow our veterinary team to provide same-day testing and results for efficient, effective care for pets in Huntersville.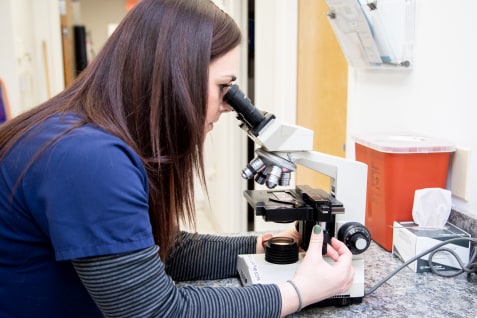 In-House Laboratory
Our in-house lab allows us to perform the following tests and receive results on the same day so we can quickly diagnose your pet's symptoms and begin treatment immediately.
Complete Blood Counts
Blood Chemistry Panels 
Parvovirus
Heartworm Detection
Fecal Exams
Urinalysis 
Electrolyte Evaluation
Skin & Ear Cytology
Feline Leukemia
Feline Immunodeficiency
On-Site Pharmacy
Our veterinary office has a fully-stocked pharmacy with a comprehensive range of prescription diets and medications conveniently located on-site.
You can fill and refill your pet's prescriptions during your visit or at your convenience. Routine medications, from parasite prevention to pain control, and specialized medications, such as prescribed thyroid disease medicine, can all be found here. Keeping our pharmacy stocked also provides us with quick access to any medications your pet may need during their visit.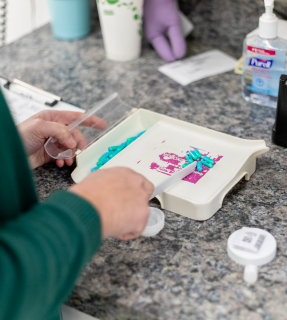 Veterinary Technology
We use various types of technology in the diagnosis and treatment of illnesses and conditions in animals.
Cold Laser Therapy
Cold laser therapy increases blood flow and stimulates the regrowth of cells in a noninvasive approach.
Using the laser energy, we are able to desensitize pain receptors which reduces pain for your pet.
There is also evidence suggesting that treatment with low-powered lasers can release the body's natural pain-killers known as endorphins.
Imaging
Digital Radiology (X-Rays)
Your pet's internal structures can be captured via digital x-rays and transferred immediately to our computer system. 
With digital x-rays, we are able to obtain much higher resolution and contrast, and can manipulate the images for improved diagnostic value, all while reducing the amount of radiation your pet is exposed to.
Ultimately, digital x-rays allow us to provide more accurate diagnoses and more efficient treatment for your pet using a safer and faster approach.
Ultrasound
By transmitting sound waves into your pet's body, ultrasound technology creates images of your pet's internal systems.
This form of technology helps distinguish soft tissue masses, foreign objects, and fluids within the body which would otherwise be difficult to detect with an x-ray. Certain conditions, such as hemoabdomen and pericardial effusion (blood in the abdomen and around the heart), are easier to diagnose with ultrasounds.